Custom Web Applications
In the online business scenario, the latest technology is the need for every business website and online applications. The online market is evolving at a fast pace and every business is going online to tap the market and increase revenue. Whether it is your business website, product catalog or a fully integrated e-cart shopping web store, you need custom and dynamic web applications.
At Govindam Infosoft, we develop custom web applications at an affordable cost that helps you serve your target audience with an exceptional online experience. Our focus is on the organization throughout the project lifecycle, and to provide measurable results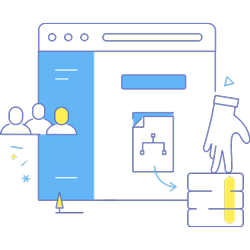 Customizing the websites and its pages is a trend that can never fade, as it gives what one desires in terms of the content of the site, look, graphics, etc. It is the best way to harmonize well, between new and old ones. Customized designs may not be changed regularly but for the few alterations, as its own design will be the face value. It then saves on the cost of renovating the site repeatedly. The software for the websites can be designed as per the requirement or needs of the client or customer. Customizing the websites that can also help for capturing the correct audience for the website, especially, if we talk about an e-commerce website of a brand or a website concerning educational institutes. The approach for website development requires to be clear from the beginning.
Our web applications are designed and developed with features that integrate with your business processes and automates them. Our experienced developers and designers have worked with several businesses from different industry verticals and thus, we understand your business challenges and goals. We can develop online applications that are customized according to your business needs and comply with it.